Happy Birthday Dear Jesus!
2017 years ago Jesus was born. This is a short specialnewsletter due to His birthday.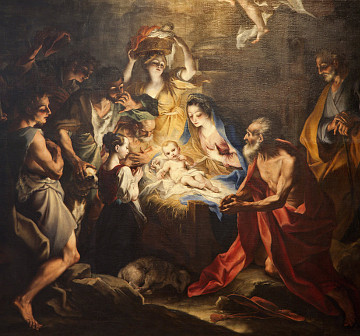 A couple of weeks ago I found amongst the many pages of the Urtext one that was dated Christmas 1969. It says:
Christ passes no-one by. Through this You know
He is God's Son. You recognize His touch
In Universal gentleness. His Love
Extends to Everyone. His eyes behold
The Love of God in Everything He sees.
No words but those His Father's Voice dictates
Can reach His ears. His hands forever hold
His Brothers', and His arms remain outstretched
In Holy welcome. Would You look on Him
And hear Him calling You this Christmas day?
Behold, He offers You His eyes to see,
His ears to listen to His Father's Voice,
His hands to hold His Brothers', and His arms
To reach to Him as He would reach to You.
You are as like to Him as He to God,
And You to God because You are like Him.
All that He offers You is but Your own.
Accept His gifts to You this Christmas day,
That You Who are as God created You
May come to recognize the Christ in You.
This is a beautiful dialog between Jesus and Helen Schucman that I already sent You in My last newsletter:
HS: I don't think B wants this Course, and I'm not sure I do, either. He is very snappy.
I think this is slightly true because something is bothering Him, but He certainly is not very snappy. So why not try to help Him instead of blowing it up into an obstruction? He helps You All the time.
HS: I resent this.
He is supposed to help Me but I – I resent a reciprocal arrangement, because He is a Man. Men are supposed to give to Me, but this is not possible.
HS: I don't always feel this way. It's a danger signal now and just means something's wrong. Anyway, presumably this Course is an elective.
No it isn't.
7 years ago this Course draw My attention to it for the first time. About half a year ago I decided to publish an uncensored version of it on My homepage and to translate it into German. Right now this work is almost the only thing that I really have fun with.
Unfortunately various bartenders and cashiers in the supermarket still want Me to give them money. Additionally should pay at least My power and Internet bills to be able to continue My work.
Up to now only one Person donated 20 EUR for two books We sent to Him.
Jesus also says:
B is doing very well, and I am deeply grateful for His efforts. I do need help with this Course.
B – please don't let Me down.
(This is very unexpected. I don't talk this way to Men.)
Therefore I would appreciate if You use Jesus' birthday as an opportunity to donate to My Superdigi Foundation. Only when You give Your money to My Foundation You can be sure that it will be spent solely for Health, Healing, Learning and Truth.
Merry Christmas,
B
Preview
It will probably take a couple of weeks until I finish My German translation of the 70 pages long first chapter of the textbook. However, there will be only minor changes in the English version that is already available as a preview on My website.
You might also be interested in
Lesen Sie diesen Newsletter auf Deutsch